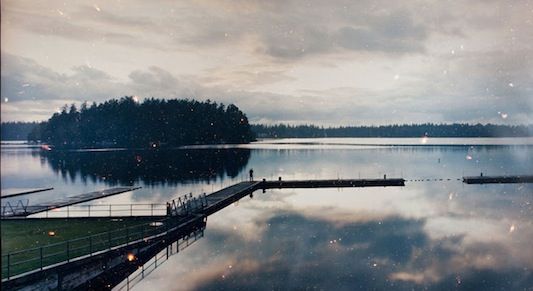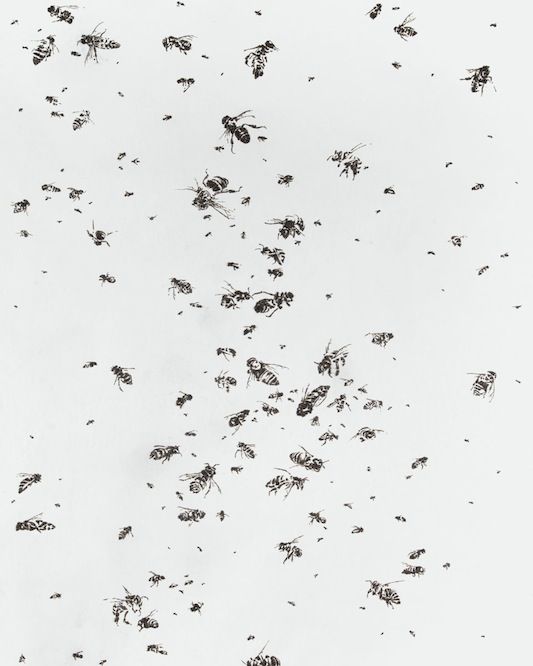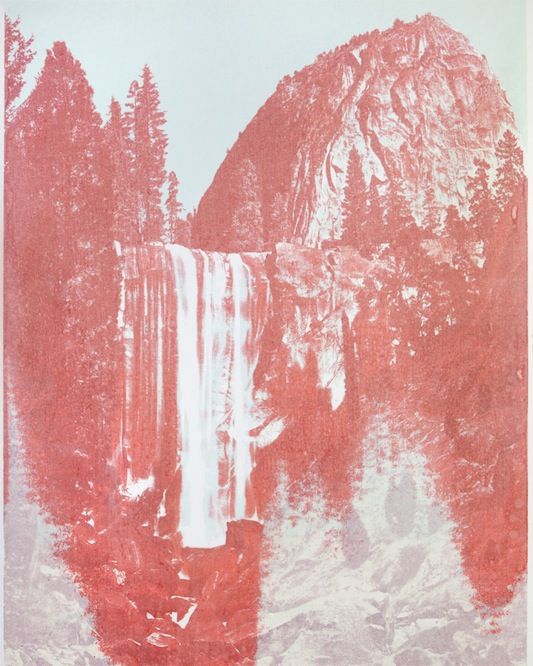 Los Angeles based photographer, Matthew Brandt, is taking experimental photography to the next level.
For his ongoing "Lakes and Reservoirs" series (see pics 1, 2 & 5), Brandt shoots Western landscapes, then, back home in the darkroom, soaks the prints in water he has collected from those same lakes. The longer the bath — anywhere from a few days to months — the more abstract and ephemeral the outcome. Some images look relatively unaffected except for a vivid red tint or acid-yellow trees; others have painterly streaks, psychedelic swirls, and jigsaw-puzzle burnouts. A few twinkle like a meteor shower. "There are sediments in some water that can cause a sparkle effect as the c-print starts to break up," Brandt explains. "I love when that happens — I cross my fingers."
Meanwhile, for his graphic "Honeybees" series (see pic 2), the artist ground up the dead insects he collected during the recent bee-colony collapse and, using the 19th-century gum-bichromate printing process, mixed them with a light-sensitive gel and smeared the solution onto paper — the bees themselves give the paper its pigment. Then he adorned the wall-size prints with more bee parts for a tactile, glittery effect. "What attracted me to the project," he says, "was that it showed a vulnerability in humanity."
For his "Taste Tests in Color" series (see pic 4), Brandt says he wanted to toy with an iconic image made "out of materials that you wouldn't think would be in a photograph" — and that may not be exactly archival. He took a classic shot of a waterfall in Yosemite National Park, then silk-screened the image with common household ingredients: cake sprinkles (some collect at the bottom of the frame), Kool-Aid, Laffy Taffy, even mouthwash and crushed pharmaceuticals. "I'm always grocery-store hunting," Brandt says, laughing. "I had to buy yellow gummy bears in five-pound bulk bags. Adderall has a nice blue tint."
I mean....

what m

ad scientist genius

-ness. #epic
Source and photos: Elle Decor